---
---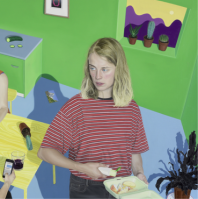 Formats
---

AMFCD0010

CD

£10.00

Expected 2nd June 2017

---

AMFLP0010

Long Player

£22.00

Expected 2nd June 2017

X

13 Tracks. Black Vinyl housed in as Gatefold Sleeve with Download.

---

AMFLPX10

Long Player

£28.00

Expected 2nd June 2017

X

15 tracks with two exclusive AM and Majesty (both brilliant and harken back to the earlier Marika sound) on a 7" in white sleeve packaged with the Gatefold orange opaque vinyl coloured vinyl. The Gatefold album vinyl features the full artwork in all its glory by artist Tristan Pigott, a pink dust sleeve plus Download.
Label
---
Im Not Your Man
---
I'm Not Your Man, the Charlie Andrew (Alt-J, Rae Morris)-produced second album from Marika Hackman, begins with an impromptu hearty laugh. It's not the sound of silliness; it's the sound of liberation, spontaneity, and joy. 24-year-old Hackman is feeling more herself than ever. Life isn't necessarily funnier or happier, but when there's cause for a joke or a big ballsy statement, she's not holding back any more. The album took almost 18 months to complete, during which time Hackman switched to a new manager and a new label, transitions that yielded new avenues for exploration, a lot of time, and a lot of distance – mainly, she insists, from self-imposed boundaries.
The results of this semi-anarchic approach are evident in the grungier, catchier sonics of I'm Not Your Man, and the lyrics, which reveal an unhinged and shamelessly free Hackman. There's an open-ended nature to the lyrics, which delve into femininity, sex and sexual identity, millennial ennui, the pressures of living in a social media bubble, and the perils of being young in a fast-paced industry. Hackman cranked up the knobs in the studio, turning away from the quieter sounds of her past to realize her teenage fantasy of fronting a raucous band. To channel this feral female energy, Hackman recruited London quartet The Big Moon as her backing band. The results are a dynamic, multi-genre album tied together by razor-sharp wit. The sounds span from Cate Le Bon weirdness to Warpaint dirge jams to straight-up Britpop choruses.
Tracklist
1. Boyfriend
2. Good Intentions
3. Gina's World
4. My Lover Cindy
5. Round We Go
6. Violet
7. Cigarette [Explicit]
8. Time's Been Reckless
9. Apple Tree
10. So Long
11. Eastbound Train
12. Blahblahblah
13. I'd Rather Be With Them [Explicit]