---
---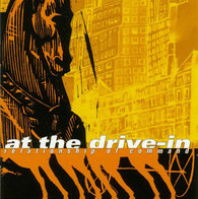 Format
---

TRANS155XX

Long Player

£22.00

X

Double Vinyl
Label
---
Relationship Of Command
---
Having already reissued their very first album "Acrobatic Tenement" earlier this year, At The Drive In return with a reissue of their final album "Relationship Of Command".
Combining a lyrical complexity and sensitivity with the most visceral yet melodic music and drilling in the same vein as The Stooges (Iggy Pop even appears on Relationship of Command), At The Drive-In remind all of the power of revolution. Continuing in the tradition of the great American underground fuelled by the likes of Fugazi and Rites of Spring, this collection of musicians inspire the kind of devotion usually reserved for the Smiths.
Speaking about the reissues, guitarist Jim Ward says: "It was interesting to revisit the recordings that bookended the first chapters of our band. The earnest and pure excitement of the beginning and the level of craftsmanship we achieved by 'Relationship Of Command' leaves me nothing but proud. I am happy these records have found their way to continue to feel new as people discover music they love and embrace our work."
Tracklist
1. Arcarsenal
2. Pattern Against User
3. One Armed Scissor
4. Sleepwalk Capsules
5. Invalid Litter Dept.
6. Mannequin Republic
7. Enfilade
8. Rolodex Propaganda
9. Quarantined
10. Cosmonaut
11. Non-Zero Possibility
12. Catacombs