---
---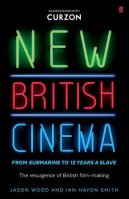 Format
---

9780571315161

Magazines + Books

£15.00
Label
---
From 'Submarine' to '12 Years a Slave': The Resurgence of British Film-making
---
Over the past year the success of British films at international film festivals - as well as the numerous awards bestowed on 12 Years a Slave - have demonstrated that British cinema has undergone a genuine renaissance that has caused new voices to emerge. At the same time, directors whose work have enthralled over the past five years have also continued to develop and expand their visions.
The boundaries of British film-making are being redefined.
Beginning with an Introduction exploring some of the factors that have led to this fertile environment, New British Cinema features in-depth interviews with the film-making voices at the vanguard of this new wave. Figures such as Clio Barnard, Richard Ayoade, Steve Mcqueen, Jonathan Glazer, Carol Morley, Yann Demange, Peter Strickland and Ben Wheatley provide a valuable insight into their work and working methods.
Collectively, the film-makers who feature in this book symbolize the incredible breadth and diversity to be found in British cinema today.