---
---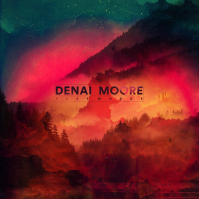 Format
---

BEC5156011

Long Player

£15.00
Label
---
Elsewhere
---
'Elswhere' was produced by Rodaidh McDonald (The XX, Adele, Daughter, Sampha) in London, except 'Blame' and 'Feeling' which are co-produced with Ben Drew (Plan B). The album follows Denai's acclaimed introductory EP releases.
Stratford-raised Denai Moore has gone through a telling transition since first uploading an early recording of her 2012 demo Flaws. It was a beautifully sung, folk and R'n'B-informed track that deservedly brought Denai quick attention, and gave an indication that this songwriter had broad ideas; there belied a grit to her songwriting that was fresh and unique. It was this simple track brimming with invention that came to form the blueprint for her future recordings.
Things moved quickly - Denai signed to London independent label, Because Music (Metronomy, Little Dragon, Django Django) and then Ben Drew was in touch; he'd heard a couple of Denai's songs and wanted to work with her on production, eventually producing The Lake EP in 2013 (he's since signed her to his publishing company). A much vaunted solo spot on the BBC's Later with Jools Holland followed, Denai commanding a grand piano under the studio spotlight. "This girl's really special!" remarked a YouTube commenter days later. Special indeed.
To discuss influences is to give very little indication of what route Denai was to take or indeed has ultimately taken. She's as passionate about the music of Joey Bada$$ and Tinashe as she is of Bon Iver, Kendrick Lamar, and Foals. Raury's music excites her, whilst James Vincent McMorrow contributed to a track on her 'I Swore' EP. Denai's cover of Band of Horses' 'Part One' was heard by the band and her version re-recorded by them. At the tail-end of last year, it came as little surprise that Denai's distinctive soul voice could be heard on SBTRKT's acclaimed 2014 album, on the track 'The Light', which she co-wrote with him. Denai recently completed a UK and European tour in support of and in collaboration with him.
The production of this record alongside Rodaidh McDonald was a masterstroke. McDonald's sparseness, upfront vocals and icy-dark atmospherics have almost become as synonymous as Spector's Wall of Sound (almost..). His work with The XX, King Krule, and Sampha was a vision that matched that of Denai's own. The songs were fast-moving beyond those acoustic beginnings, and McDonald (with contributions from the likes of Royce Wood Jr and Mocky) was the man to digest her new ideas and filter them through his own via the XL Studios.
'Elsewhere' will undoubtedly surprise the early-birds that had Denai pigeon-holed from her early recordings. Yes, soul, folk, and indie are genres that Denai winds through, and indeed, if you take the songs back to their skeleton-frame, it's still very much about her startling, vulnerable voice, but there is a sparseness and atmosphere on the LP that recalls something deeper and decidedly more left of centre.
Tracklist
1. Piano Song
2. Absent
3. Blame
4. Detonate
5. Elsewhere
6. Flaws
7. I Swore
8. Feeling
9. Never Gone
10. No Light
11. Let me Go
12. Last Time