---
---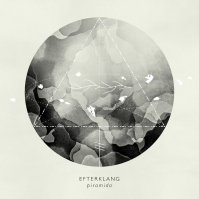 Format
---

CAD3229

Long Player

£16.00

X

LP & CD
Label
---
Piramida
---
Forever fascinated by the purest possibilities of sound, since forming in 2001 Efterklang - childhood friends Mads Brauer, Casper Clausen and Rasmus Stolberg - have consistently adjusted their sonic modus operandi to suit very specific inspirations. The results the band have produced so far - most notably across three acclaimed albums, 2004's 'Tripper', 2007's 'Parades' and 2010's 'Magic Chairs' - have each explored different directions, each an end product of remarkably studied songcraft and emotional resonance. But 'Piramida' is perhaps the band's greatest achievement: an album bringing the outside in, informed by frozen time and the relics humanity leaves in its expanding wake.
'Piramida's roots were laid in 2010, when the band first saw photographs of a forgotten settlement lying, slowly dying, on Spitsbergen, an island of the Svalbard archipelago midway between the Norwegian mainland and the North Pole. This ghost town, which the trio eventually visited in August 2011 (drummer Thomas Husmer left before 'Piramida's commencement), would give their fourth album its title, and comprise the conceptual catalyst for its contents.
Once an outpost for some 1,000 Russians, the former mining facility was abandoned in January 1998. Between the empty oil drums and fuel tanks, glass bottles, lampshades, sea birds and polar bears, the band discovered the world's northernmost grand piano, standing proudly in a concert hall that once held 400 people. Its notes can be heard on 'Piramida', perhaps for the first time anywhere in over a decade.
When the band returned home, nine days later, they'd accumulated just over 1000 field recordings from the many and varied environments they explored in Piramida. The beginnings of this approach can be seen on the band's 2010 film collaboration with Vincent Moon, 'An Island'. Then the time came to transform these audio snapshots of abandonment, of isolation touched by unique beauty, into songs.
Every added element - including contributions from Peter Broderick (violin), Earl Harvin (drums), Nils Frahm (piano), brass from the Andromeda Mega Express Orchestra, and a 70- piece girls choir - owes its presence to the trio's Piramida visit. "Everything that has gone onto this record is connected with that trip," says Clausen. Adds Stolberg: "We didn't really know where we were going to end the record - but the starting point was something we could control. That was an amazing framework for us, and we could constantly put what we were working on in the context of that trip."
Lyrically, Clausen isn't telling of empty houses and dusty grand pianos - but his heartfelt performance, more prominent in the mix here than on past albums and all the more affecting for it, is carried by a different kind of isolation, of abandonment. In his words there are glimpses of a relationship splintered, a community of two lost to the winds. It's thousands of geographical miles away from Piramida, yet becomes the heart of Piramida.
A less-densely layered collection than the electronic-hued 'Parades', and more direct than 'Magic Chairs', 'Piramida' is a rare example of a conceptually strong project that never forgets to let the concept serve the song, rather than the other way around. It's a streamlined sound, but distinct and absorbing too. It showcases a band superbly capable of transitioning experiences shared by a select few into music that can be enjoyed by a wide, open-minded audience.
Tracklist
1. Hollow Mountain
2. Apples
3. Sedna
4. Told To Be Fine
5. The Living Layer
6. The Ghost
7. Black Summer
8. Dreams Today
9. Between The Walls
10. Monument