---
---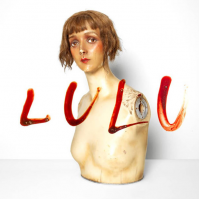 Format
Lulu
---
Lulu is a collaborative album between the rock guitarist Lou Reed and Metallica. The album will be released on October 31, 2011 worldwide, and one day later on November 1 in North America.
The conception of the collaboration project began in 2009 when both Metallica and Lou Reed performed at the Rock and Roll Hall of Fame's 25th Anniversary Concert. After that performance, the two entities began "kicking around the idea of making a record together," but didn't start working together until two years later. In February 2011, Metallica guitarist Kirk Hammett announced that in May 2011 the group would start working on something that's "not 100 percent a Metallica record. It's a recording project, let's put it that way." The secret project was publicly revealed to be a collaboration with Lou Reed once the recording of the album had been completed in June 2011.
Reed had composed a collection of songs for a play called Lulu — a theatrical production of various stories originally written by the German playwright Frank Wedekind. Reed instead shared the demos of these songs with the members of Metallica to help bring the "piece to the next level," and the group provided "significant arrangement contributions" to the material. David Fricke of Rolling Stone heard at least two of the songs from the project in June 2011 — "Pumping Blood" and "Mistress Dread" — and described their sound as a "raging union of [Reed's] 1973 noir classic, Berlin, and Metallica's '86 crusher, Master of Puppets."
Tracklist
1 Brandenburg Gate
2 The View
3 Pumping Blood
4 Mistress Dread
5 Iced Honey
6 Cheat On Me
7 Frustration
8 Little Dog
9 Dragon
10 Junior Dad