---
---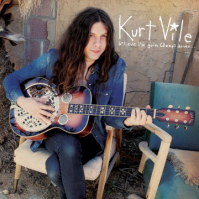 Formats
---

---

OLE10331

2 x Long Player

£20.00

X

Double Vinyl

---

OLE10951

3 x Long Player

£28.00

X

5 Bonus Tracks.
Label
---
B'lieve I'm Going Down
---
b'lieve i'm goin down… is Vile's sixth album, and shows Kurt both deeply introspective and briskly self-assured. As longtime fan Kim Gordon wrote in her bio for the album: "Kurt does his own myth-making; a boy/man with an old soul voice in the age of digital everything becoming something else, which is why this focused, brilliantly clear and seemingly candid record is a breath of fresh air. Recorded and mixed in a number of locations, including Los Angeles and Joshua tree, b'lieve i'm goin down… is a handshake across the country, east to west coast, thru the dustbowl history ("valley of ashes") of woody honest strait forward talk Guthrie, and a cali canyon dead still nite floating in a nearly waterless landscape. The record is all air, weightless, bodyless, but grounded in convincing authenticity, in the best version of a singer songwriter upcycling."
b'lieve i'm goin down… is available on standard CD and double LP. A limited edition triple LP expanded version b'lieve i'm goin (deep) down…, features 6 bonus tracks.
Tracklist
1. Pretty Pimpin
2. I'm an Outlaw
3. Dust Bunnies
4. That's Life, tho (almost hate to say)
5. Wheelhouse
6. Life Like This
7. All In a Daze Work
8. Lost My Head There
9. Stand Inside
10. Bad Omens
11. Kidding Around
12. Wild Imagination

Bonus 3LP Tracks:
13. LESS TALK (MORE WALKIN AWAY)*
14. NICOTINE BLUES*
15. BAD OMENS (NO EDIT)*
16. NO STRANGER TO THE BALL BUST*
17. SAX OMENS (J TURBO)*