---
---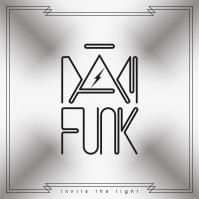 Format
Label
---
Invite The Light
---
Damon " Dam-Funk" Riddick is the epitome of funk. Ever since
debuting on Stones Throw in 2008, Dam-Funk has become one of the
genre's most passionate proselytisers.
In 2013, he released a celebrated album in partnership with hip-hop's
Snoop Dogg, 7 Days of Funk. Fresh for '15, Dam returns with a solo
project nearly six years in the making: Invite the Light.
D_m's partnership with Stones Throw includes everything from his
2009 LP Toeachizown and Adolescent Funk, a 2010 anthology of
early productions, to 2013's 7 Days of Funk.
_
As always, Dam flexes his multi-instrumentalist talents by handling all
the production but still makes time for guests including rapper Q-Tip,
the father-son duo of Leon Sylvers III & IV, and funk giant Junie
Morrison of the Ohio Players, who opens and closes the album with
dire warnings of what could happen in a world without funk. Rest
assured, Dam is here to make sure that never comes to pass. As he
puts it, "funk is the underdog, the black sheep of black music," and if
that's true, Dam-Funk is its shepherd.
Tracklist
1. Junie's Transmission
2. We Continue
3. Somewhere, Someday
4. I'm Just Tryna Survive (In The Big City)
5. Surveillance Escape
6. Floating On Air
7.HowUGonFu*kAroundAndChooseABusta?
8. The Hunt & Murder Of Lucifer
9. It Didn't Have 2 End This Way
10. Missing U
11. Acting
12. O.B.E.
13. Glyde 2nyte
14. Just Ease Your Mind From All
Negativity
15. Virtuous Progression
16. Junie's Re-Transmission