---
---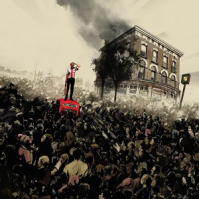 Format
---

X

Clear red vinyl.
Label
---
Shaun Of The Dead OST
---
While aware that they were working on a comedy, composers Daniel Mudford & Pete Woodhead wanted to make a score that was deadly serious and let the comedy do its own thing. "We wanted to "play a straight bat," as the English say, and treat the film as though it was a sincere and genuinely terrifying scenario." says Mudford. In doing so, they crafted a score that fits in perfectly along side the great horror scores that inspired it.
Pete & Dan's band, 'The Sons Of Silence,' was previously featured in Edgar Wright's television show Spaced before it became part of the behind the scenes soundtrack to the writing, and casting portions of production of the film. "Indeed, many of the doomier, dubbier tracks of from The Sons of Silence would blend in perfectly with my playlist, made up of John Carpenter scores, Goblin rock outs and library tracks from Dawn of The Dead. So even before Dan and Pete were definitely scoring the movie, they were already scoring the movie." Says Edgar.
Tracklist
1. (I love your) Pub Action
2. Unreality
3. Snakehips
4. Cornetto Quest
5. Susie's Bus Ride to Hell
6. The Z Word / There's a Girl in the Garden
7. Combat Studs
8. The Shower & The Coming Apocalypse
9. Fizzy Legs 10. Garden Running
11. Walking With The Dead
12. Blood in Three Flavours
13. BeZieged
14. Burn Down The Sun
15. Envy the Dead
16. Pint Of No Return
17. Ready...
18. ...steady...
19. Heads Together
20. Final Act
21. Normality