---
---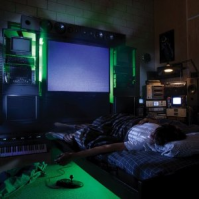 Format
Label
---
Channel Pressure
---
Channel Pressure is the full length debut from Brooklyn-based production duo Daniel Lopatin (Oneohtrix Point Never) and Joel Ford (Tigercity), formerly known as Games.
After the success of their previous single and EP, Ford & Lopatin decided to pour everything into a long player in their own inimitable style. Eschewing a traditional song-writing period, improvised sessions were instead recorded over 3 months at Mexican Summer's headquarters and synthesizer legend Jan Hammer's home studio in upstate NYC.
The recordings of these were then spliced, sampled and reconstructed, growing unexpectedly into an imaginary soundtrack for the adventure of Joey Rogers, mild-mannered teenager of the year 2082. Battling to overthrow a computer-ruled, megalomaniacal music industry through epic, world-changing MIDI jams, an iconic frontcover by Thunderhorse depicts the moment his TV starts to command him subliminally.
To capture the soundscape of the studio results, talent was enlisted from childhood pal Al Carlson for engineering, Prefuse 73 for mixing, and guest vocals from friends Autre Ne Veut and Jeff Gitelman of Stepkids. The result is a pristine presentation of chaotic material; layers of glitch, Krautrock, synthpop, ambient, prog-fusion and hardware shredding melded into just 14 tracks of multi-focus post-pop edits.
Tracklist
1 — Scumsoft
2 — Channel Pressure
3 — Emergency Room
4 — Rock Center Paranoia
5 — Too Much Midi (Please Forgive Me)
6 — New Planet
7 — Voices
8 — Joey Rogers
9 — Dead Jammer
10 — Break Inside
11 — Surrender
12 — Green Fields
13 — World of Regret
14 — G's Dream