---
---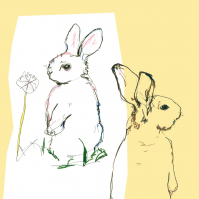 Formats
---

---

REWIGLP100

2 x Long Player

£18.00

X

Double Vinyl

---

REWIGLP100X

2 x Long Player

£22.00

X

Indies only light yellow coloured vinyl + bonus 7". Limited to 300 copies in the UK.
Label
---
Look Around
---
Formed in the early '80s at Evergreen College in Olympia, Washington by Calvin Johnson, Heather Lewis and Bret Lunsford, Beat Happening combined a modern primitive pop sound with the D.I.Y. ethos of 'anyone can do it' and inspired countless bands and labels along the way. The music community that arose around the band and their label, K, was in many ways, the sonic antithesis of their Seattle neighbors (and friends) but was no less influential. 'Look Around' is a remastered, career-spanning double album anthology, handpicked by the band and a great starting point for the uninitiated as well as a refreshing reminder to those who caught the wave the first time around.
The legend of Beat Happening, and of K, is full of big names they worked with before they were stars (Beck, Modest Mouse, The Gossip), and big names they influenced (Kurt Cobain, Sleater-Kinney) Less acknowledged, however, is that the band created some of the most original and surprising music to come out of the often deliberately weird American punk rock tradition.
Tracklist
1. Our Secret
2. Foggy Eyes
3. Bad Seeds
4. What's Important
5. Look Around
6. Bewitched
7. In Between
8. Indian Summer
9. Other Side
10. Black Candy
11. Cast A Shadow
12. Nancy Sin
13. Knock On Any Door
14. Left Behind
15. Red Head Walking
16. Fortune Cookie Prize
17. Hot Chocolate Boy
18. Pinebox Derby
19. Tiger Trap
20. Godsend
21. Teenage Caveman
22. Noise
23. Angel Gone