---
---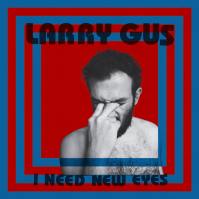 Formats
---

---

DFA2479

Long Player

£20.00
Label
---
I Need New Eyes
---
Panagiotis Melidis started writing music as Larry Gus (λάρυγγας [larigas], greek for larynx) in 2006, after his previous band, the bass and drums duo Ginger, parted ways. Initially his music combined sample-based constructions and psychedelic pop melodies, merged into an infinitely dense amount of layers and polyrhythms. He soon became known for his energetic and chaotic improvised live performances that involve intricate layering of vocals, drums, and electronics… along with lively stage banter.
On his upcoming DFA album, I Need New Eyes (a title inspired by a Marcel Proust misquotation), moving slowly out of his sample-based roots and using clearer songwriting structures as his starting point, he stares intensively into his obsessions, anxieties and inadequacies, namely failure, humiliation, subservience, submission, and comparisons with other musicians' careers, always through the prism of a provincial outsider.
--
Panagiotis studied and worked as a computer engineer, with postgraduate studies at the Music Technology Group in Barcelona, and it's with this technical academic background that he applies such interdisciplinary approaches on his production process. For instance, Years Not Living, his DFA debut, was a song cycle directly inspired by the formal algorithmic constraints introduced by Georges Perec in his novel "Life A User's Manual". Similar techniques have also been key parts in the numerous remixes he's done over the years (Cut Copy, YACHT, Sandro Perri, Sinkane, Little Boots, WIN WIN), always transforming radically the originals into unknown territories.
My Friend Larry Gus, a documentary shot by Vasilis Katsoupis, premiered at the Karlovy Vary International Film Festival at 2015. In 2010, Panagiotis moved from Barcelona back to his small hometown in northern Greece to work on "Years Not Living", staying at his family house with his mother, amidst the beginning of the Greek financial crisis. The film documents the relationship of Panagiotis with his craft, his family and his friends, and the steps that eventually led to DFA picking the album, all the way from Veria to Milan and New York.
Tracklist
1. Black Veil of Fail
2. NP Complete
3. No More Compliments
4. The Clearest Fog
5. Belong to Love
6. Foreign Lands
7. The Sun Describes
8. Paper Spike
9. Withdraw (Bonus Track)