---
---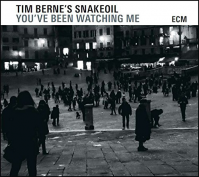 Format
Label
---
You've Been Watching Me
---
Tim Berne's third ECM album, 'You've Been Watching Me', sees the saxophonist-composer again leading his dynamic New York band Snakeoil, but with the quartet now a quintet with the arrival of guitarist Ryan Ferreira, whose sound adds textural allure.
The group's 2013 release, 'Shadow Man', garnered Berne some of the highest praise of his career as a composer and bandleader. DownBeat said: "This music rocks and thinks, explores, deconstructs, and swings, in its own identifiably angular, Berne-ian way."
If Berne has hit a new peak with his writing on this new recording, his band has reached a heightened state of collective interaction. Snakeoil can still be bracingly kinetic. But there is new space in these compositions and more lyrical focus to the improvisations, leading to a dramatic, even cinematic experience in such tracks as "Embraceable Me." Berne's music has never been richer or more arresting.
'Snakeoil', from 2012, was Berne's first studio album after nearly a decade of live recordings; the music represented not only a new band but an exciting new era in the leader's work, more harmonically rich and detail-conscious. 'Shadow Man', released the following year, aimed to document the powerful dynamics of the confident, road-honed Snakeoil band, virtually live in the studio. 'You've Been Watching Me' - recorded, like 'Shadow Man', at the Clubhouse in upstate New York, with production and mixing by ECM veteran David Torn - documents a further evolutionary leap. "I look at studio records as like little movies," Berne says. "And rather than make a sequel, I'd always rather make an entirely new movie."
Tim Berne was recently named No. 7 of New York City's "essential jazz icons" by Time Out New York and declared "a saxophonist and composer of granite conviction" by The New York Times.
Personnel: Tim Berne (alto saxophone), Oscar Noriega (clarinet, bass clarinet), Matt Mitchell (piano and electronics), Ryan Ferreira (electric and acoustic guitars), Ches Smith (drums, vibraphone, percussion, timpani)
Tracklist
1. Lost in Redding
2. Small World in a Small Town
3. Embraceable Me
4. Angles
5. You've Been Watching Me
6. Semi-Self Detached
7. False Impressions