---
---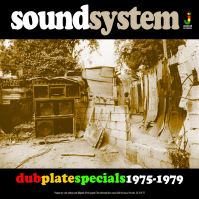 Format
---

JRLP055

Long Player

£13.00
Label
---
Dub Plate Specials 1975-1979
---
The Sound Systems of Jamaica were always the people's radio station.
Tunes were tried and tested in the lion's den of the dance to see which songs rose to the top and became the most popular.
This was the litmus test and the first step to a tracks commercial release to capitalise its hotness on the circuit.
Then the Dub/Version hit big in Jamaica in the early to mid 70's this was also the case and many times the version cut of a track would even prove more popular than its vocal counterpart.
We have compiled some great 70's dub plates that rocked the Sound Systems in fine style...
Hope you enjoy the set....
Tracklist
1. Exalted Dub - Leroy Smart
2. Bag a Wire Dub - Johnny Clarke
3. Dub Ites Green & Gold - Johnny Clarke
4. Chapter of Money - Horace Andy
5. Beat Them in Dub - Cornell Campbell
6. Thunder Rock - Cornell Campbell
7. How Long Dub - Pat Kelly
8. Everybody Needs Dub - Slim Smith
9. Six Million Dollar Version - Leroy Smart
10. Peace and Love in Dub - Johnny Clarke
11. A Living Dub - Johnny Clarke
12. A Heavy Dub - Delroy Wilson
13. Drums of Africa - Johnny Clarke
14. Channel Is a Joker - Johnny Clarke
15. Breaking Up Dubwise - Johnny Clarke
16. Version of Class - Jackie Mittoo