---
---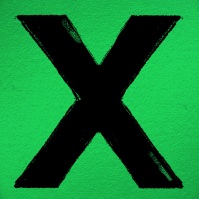 Formats
---

---

2564628587

Long Player

£20.00

X

Double Vinyl
Label
---
X
---
It follows his critically acclaimed and hugely successful 2011 debut +; an album that was certified 6 times platinum in the UK alone and has achieved worldwide sales of over 4 million copies to date. It also saw Ed as the recipient of various awards for the record, including 2 Brits, an Ivor Novello and multiple Grammy nominations.
Never an artist to stand still, Ed recorded x at various locations around the globe (all the while drawing on experiences and influences encountered on his over three years of unrelenting touring) with such luminary producers as Rick Rubin (Eminem, Jay-Z, Red Hot Chilli Peppers), Pharrell Williams (Daft Punk, Robin Thicke, N.E.R.D), Benny Blanco (Rhianna, Wiz Khalifa) and Jeff Bhasker (Alicia Keys, Jay-Z) adding new flavours to the classy work of key collaborators Johnny McDaid (Snow Patrol) and Jake Gosling (who produced +). x has the musical ingredients to make it one of the most important global releases of this year.
The new set showcases the exponential growth (both vocally and musically) of an incredible artist, who at 23 exhibits the poise of a seasoned veteran. The songs for x came together whilst touring + and, in the same way as the latter was a snapshot of his life and relationship to-date, x charts his loves and life since. Only 'One', the perfect album opener and first song written for the record (in 2011 whilst on tour in Australia) looks back to that time and is the link between the two records. With 'One' under his belt, almost before he noticed he was writing, Ed had ten new songs and counting.
The breath-taking album-closer 'Afire Love' was written about his grandfather who passed away last Christmas. "Always the hero of the family - such a cool guy - he'd been suffering with Alzheimer's for some time and I actually started writing that song two weeks before he passed away," Ed says. "I was thinking 'What if?' and then he did…" Then there is the timeless ballad 'Photograph' written in May 2012 in a hotel room in Kansas whilst on tour with Snow Patrol. McDaid had a piano loop playing on his laptop while Ed was making a Lego X-wing Fighter to give to a charity auction. He just started singing as he put the pieces together and the song grew from there. 'Don't' started life as a riff on his phone and grew into another of x's massive moments. The deluxe version of the album also includes the original song, 'I See Fire', which Ed wrote, produced and recorded for the second Hobbit movie.
Tracklist
1. One
2. I'm A Mess
3. Sing
4. Don't
5. Nina
6. Photograph
7. Bloodstream
8. Tenerife Sea
9. Runaway
10. The Man
11. Thinking Out Loud
12. Afire Love
Deluxe CD Traclist:

1.One
2 .I'm A Mess
3 .Sing
4. Don't
5. Nina
6. Photograph
7. Bloodstream
8. Tenerife Sea
9. Runaway
10. The Man
11. Thinking Out Loud
12. Afire Love
13. Take It Back
14. Shirtsleeves
15. Even My Dad Does Sometimes
16. I See Fire