---
---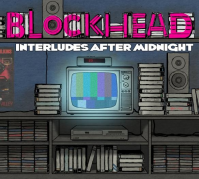 Formats
---

ZENCD184

CD

£10.00

Expected 30th April 2012

---

ZEN184

2 x LP

£15.00

Expected 30th April 2012
Label
---
Interludes After Midnight
---
Manhattan-based hip-hop producer Blockhead is famed for his work with Def Jux rapper Aesop Rock, but he has also released a string of excellent instrumental LPs under his own name. The last of these, 2009's critical success The Music Scene, perfected a style that sets smart vocal samples within varied, beat-laden soundscapes.
Beats and samples remain at the heart of Blockhead's latest record, but there is also a clear change of approach. Interludes After Midnight is a concept album of sorts. Its title, drawn from the late-night adult show running on Manhattan public access TV throughout the '80s and '90s, forms a window into, or rather a microphone pointed at, the world of the producer's youth. This paean to New York is not Blockhead's first-- 2005's Downtown Science was similarly dedicated to the city--but it is his most intensely personal. Each sample, encrusted with memories, drops into the record like a precious stone into water, rippling the music with Blockhead's emotional attachment to particular sights and sounds from his upbringing.
Opener "Never Forget Your Token" is a case in point. Paying homage to the New York City subway, ambient sounds from which bookend the track, this four-minute train ride zips from one sample to the next. Its departure, an eery vocal from '60s psychedelia group the Loose Enz, asks listeners to "take the subway to the end of your mind" and sparks a rolling, propulsive beat. This builds until the track's next stop where Heather B.'s voice, crossing two decades to chant "rather jump the turnstile than pay the token," interjects a key change that brings with it a whole new palette of sounds. This tendency to build a track around a few well-chosen samples, allowing each one to push the piece in a different direction, is a Blockhead trademark. Whereas on previous albums this sometimes left tracks disjointed, here where samples are linked thematically, the technique is highly effective.
Blockhead continues exploring the city one memory at a time. Far from making the record one dimensional, this approach offers him a variety of sonic textures and many different moods. "Panic In Funkytown," for example, satirises the naive yearning to move to New York behind Lipps Inc.'s "Funkytown." Unsettling the disco idiom of the 1980 classic, Blockhead uses dark, minor melodies, syncopated rhythms, and an ambiguous sample from King Sun ("there's always room for one more on the floor") to reveal the city's true underlying violence, something he would have seen growing up on the Lower East Side. Changing texture as well as mood, "Meet You At Tower Records" is bright and warm, its samples from Nektar and Young Bleed merging in a powerful evocation of laid-back, dusty summer days spent crate digging downtown. Different again but referencing another of the city's late-night shows, "The Robin Byrd Era" is a predictably sleazy affair where Damien Paris's raunchy live guitars build around vocal samples that tread the fine line between humour and vulgarity.
The penultimate track, "Beyond Reach," is a pared-down essay on inner-city ennui that features lyrics written and sung by Baby Dayliner. Brooklyn-based Dayliner shares Blockhead's nostalgic passion for the sounds of the city where the two friends met as kids. "I'm here with nothing to do," go Dayliner's opening words, but the past collaborations between the pair have been especially fruitful: Dayliner played violins on Blockhead's debut full-length, Music By Cavelight, and together they produced the first album by hip-hop comedy group Party Fun Action Committee, Let's Get Serious. Given their shared history, Dayliner's appearance on an album chronicling New York City through the ears of Blockhead's youth is unsurprising. Nevertheless, the record is all the richer for his contribution.
Interludes After Midnight is another sonic adventure where Blockhead, unaccompanied but for Paris and Dayliner, tackles terrain as diverse as gangster rap, disco and psychedelia. As usual, he combines clever vocal samples with immensely varied beats, but the record's new intimately personal approach cannot be ignored. By developing a clearly defined autobiographical theme in the nostalgic tour of New York City, Blockhead's eclectic talent achieves the structure and direction that his previous solo work has occasionally lacked.
Tracklist
never forget your token
creeps crouchin'
panic in funkytown
hungover like woah
meet you at tower records
escape the meadow
smoke signals
tools of the industry
midnight blue
snapping point
beyond reach (ft baby dayliner)
the robyn bird