---
---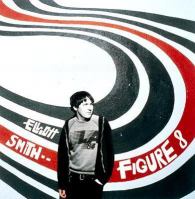 Formats
---

---

5338578

2 x Long Player

£18.00

X

2013 Back to Black Reissue
Label
---
Figure 8
---
Released in 2000, "Figure 8" was Elliot Smith's 5th album was his last complete work and his 2nd for Dreamworks following on from 1998's "XO".
Despite the fact that by the year 2000 Smith was in a dark place, suffering from depression and contemplating suicide, "Figure 8" is a really uplifting album. Partially recorded at the world famous Abbey Road studios in London and heavily influenced by The Beatles, the album is considered by many as being sonic perfection due to its "sweeping kaleidoscope of layered instruments and sonic textures".
The photograph adorning the front cover of this 2LP set boasts a clean and healthy looking Elliott Smith standing outside the Solutions Audio studio in LA which has become something of a mecca for the legions of fans who have discovered his music since his untimely death in October 2003.
As with all Back 2 Black vinyl re-issues they're faithful to the original vinyl release and they're all pressed on 180gram vinyl and come complete with a Digital Download for the album.
Tracklist
LP 1

1. Son Of Sam
2. Somebody That I Used To Know
3. Junk Bond Trader
4. Everything Reminds Me Of Her
5. Everything Means Nothing To Me
6. L.A.
7. In The Lost And Found (Honky Bach)/The Roost
8. Stupidity Tries

LP 2

1. Easy Way Out
2. Wouldn't Mama Be Proud
3. Colorbars
4. Happiness/The Gondola Man
5. Pretty Mary Kay
6. Better Be Quiet Now
7. Can't Make A Sound
8. Bye