---
---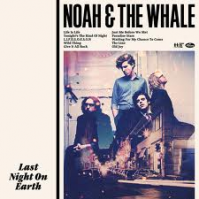 Format
Label
---
Cooperative Music / Universal Distribution / V2 International
Last Night On Earth
---
By Gareth James
"It's not like the last recordmumble, mumble. Where's all the lovely folk music gone? Grumble, grumble. They've lost the innocence of their debut." Get ready for the tidal wave of "what the fucks" which this album will surely provoke. However, before the braying masses are allowed to, yet again, sink an interesting and experimental release just because it doesn't conform to their own peculiarly retrograde rules, let's get two things clear. Firstly, the release of this record doesn't automatically cause the previous two to spontaneously combust. Secondly, there is some wonderful songwriting on 'Last Night On Earth' which deserves to be heard.
Having issued those caveats, I should confess that the first play of this record left me rather confused and actually wondering if I'd put the right album on. You'll have heard 'L.I.F.E.G.O.E.S.O.N' by now and it is a reasonably fair representation of what album three has to offer. There is an air of polished power-pop atop many of the songs, but don't be fooled into thinking that that means this is some soulless stab at stadium status. Take the spacious beats and swirling yet soothing synths which open 'Wild Thing'. It slowly and delicately gathers pace and, whether it would sound out of place on Radio 2 or not, it's still a beautiful song. It does contain one of those lyrics which continues to leave them open to allegations of being a little too clever-clever: "I used to be a citizen in this town till my teeth turned grey and my hair fell out," but this is surely redeemed by the altogether more evocative "the night stars static in the winter breeze."
'Give It All Back' is a massive singalong littered with plinky-plonky eighties keyboard and the kind of dramatic, triumphant ending which pointedly marks the end of side one. The retro influence only serve to underline the fact that this record sounds like it was made for the vinyl age, working well in two distinct chunks. Just as any good compilation tape needed to open slowly, ebbing and flowing effectively to the end of its first half, before briefly dropping the pace ahead of a second wind early on side B, side two opens with 'Just Before We Met'. Initially, mid-paced and thoughtful, it erupts into another magnificent chorus. Indeed, its worth stressing just how many genuinely catchy tunes there are on this record. Anyone can try and adopt a pop-rock sound but few actually make it sound any good.
The gung-ho, balls out, fuck the lot of you and your lazy comparisons (Deacon Blue, Tom Petty and Fleetwood Mac for me, ta) bombast-aplenty, big guns are 'Tonight's The Kind Of Night' and 'Waiting For My Chance To Come'. The latter is a tale of maintained optimism in the face of solitude, buffed and crafted to a point of pop perfection. Anything more and it would be overblown, anything less and it would be half-arsed. As it is, only the ruptured heart of a self-loathing blowhard could find anything to dislike about it.
Meanwhile, 'Tonight's The Kind Of Night' is the kind of chart-shagging beast which could be a global smash were it record by a band that wasn't called Noah & The Whale. Again, if that very fact is enough to turn you off then, please, never invite me round to look at your record collection. If you love music then surely your entry point was whatever pop was prominent when you were only nascent, so drop the sneering act.
Bowing out on the spacious, communal choral nod to the future that is 'Old Joy', it would seem the dark clouds haven't just lifted but truly vanished. The euphoria is oddly contagious and I find myself reaching for this album far more often than the first play might have suggested. Had I had to write this within days of hearing the record, I suspect it would have been a middling, slightly cautious review but you'll have to trust me that this record blossoms into something almost entirely unexpected. I didn't have much time for 'Peaceful, The World Lays Me Down', finding it all a bit too gleefully arch. I greatly enjoyed much of 'The First Days Of Spring' but didn't find myself playing it all that often. 'Last Night On Earth', however, is the one I'll be merrily recommending to all who'll listen and cherry picking for my end of year compilation.

Tracklist
1. "Life is Life" 3:37
2. "Tonight's the Kind of Night" 3:10
3. "L.I.F.E.G.O.E.S.O.N." 3:52
4. "Wild Thing" 4:50
5. "Give it All Back" 2:56
6. "Just Me Before We Met" 3:38
7. "Paradise Stars" 1:30
8. "Waiting for My Chance to Come" 2:57
9. "The Line" 3:30
10. "Old Joy" 3:29