---
---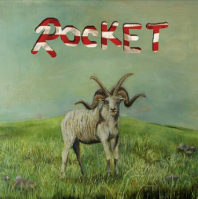 Formats
---

WIGCD398

CD

£10.00

Expected 19th May 2017

---

WIGLP398X

Long Player

£20.00

Expected 19th May 2017

X

Limited edition version pressed on 180 Gram red vinyl, housed in Gatefold jacket, includes MP3 download card.

---

WIGLP398

Long Player

£18.00

Expected 19th May 2017

X

180 Gram Black Vinyl, housed in Gatefold jacket, includes MP3 download card.
Label
---
Rocket
---
Rocket is the Philadelphia-based artist's eighth full-length release - an assured statement that follows a slate of humble masterpieces, many of them self-recorded and self-released, stretching from 2010's Race to his 2015 Domino debut, Beach Music. Rocket's sessions began shortly after Beach Music's ended, with Alex tracking songs at home, by himself and with friends, in the gaps between a hectic 2015 and 2016 touring schedule. Rocket was mixed by Jacob Portrait (Unknown Mortal Orchestra, Bass Drum of Death), who also lent his hand to Beach Music, giving the album a fine-tuning that retains the homespun personality of earlier efforts. The looser, collaborative approach helped cultivate the variety of musical styles that Rocket presents. The dense, folky cluster of Poison Root leads to the bouncing country-rock of Proud, which is followed by the sophisticated harmonies of jazz-pop tune County. Later, the freaky, frantic Witch unsettles the album's pop sensibility, while instrumentals Horse and Rocket set a more placid mood - that is, until the distorted, beat-driven Brick destroys any feelings of serenity exuded by the surrounding songs. Rocket ends with a rollicking free-for-all, Guilty, that in its numerous contributors and blaring saxophone synthesizes the album's communal feel and restless sense of musical experimentation. On Rocket, the myopic characters teeter between the initial explosion and the ultimate burning out. Alex himself, though, in a collection of songs that's both his tightest and most adventurous, is poised only for the ascent.
Tracklist
1. Poison Root
2. Proud [Explicit]
3. County
4. Bobby
5. Witch
6. Horse
7. Brick
8. Sportstar
9. Judge
10. Rocket
11. Powerful Man
12. Alina
13. Big Fish
14. Guilty