---
---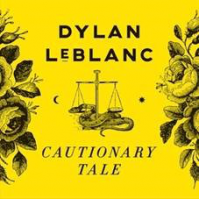 Format
Label
---
Cautionary Tale
---
Dylan LeBlanc knows second chances don't come around often. But, neither do voices like his.
Overwhelmed by the speed at which his gift took him from Applebee's server to "the new Neil Young" in a matter of months, he walked away from an unlikely major label deal after releasing two critically acclaimed albums. He slipped into a blur of booze and self-doubt. Exhausted and damaged at just 23-years-old, Dylan came home to Muscle Shoals, Alabama to write a new life for himself.
In between the moments of clarity and a few familiar falls, he also wrote a new album, Cautionary Tale: a collection of shimmering, arresting songs with the same haunting vocals, now with a sharpened edge honed by hastened maturity.
To help him say it, he sought out long-time friend Ben Tanner, the same guy who had secretly helped LeBlanc record his first songs. In between touring with Alabama Shakes, Ben was beginning to engineer records again at the label he started with another friend of Dylan's, Grammy Award-winning musician John Paul White, formerly of the Civil Wars. The two both produced and played on Cautionary Tale.
The stripped down aesthetic that John Paul and Ben have made their label's calling card sets Dylan's voice in a light bright enough to see the patina the last few years has left behind.
Tracklist
1. Cautionary Tale
2. Roll The Dice
3. Look How Far We'Ve Come
4. Man Like Me
5. Easy Way Out
6. Beyond The Veil
7. Lightning And Thunder
8. I'M Moving On
9. Balance Or Fall
10. Paradise