---
---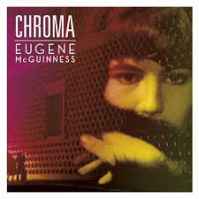 Format
---

WIGLP324

Long Player

£10.00
Label
---
Chroma
---
The eleven-track album was recorded and produced by Dan Carey at his South London studio, and features arguably one of the best rhythm sections in the UK, Tom and Leo from the Invisible.
After the polish and pop of last album, The Invitation To The Voyage, Chroma treads a simpler, more spontaneous path ("I wanted to do a direct, stripped-back guitar album" explains McGuinness), perfectly showcasing his timeless song writing talent.
Chroma, his fourth album, follows his self-titled debut in 2008, Glue (2009) and The Invitation To The Voyage (2012) and will be available on CD (WIGCD324), heavyweight vinyl (WIGLP324) and digitally (WIG324).
Tracklist
1. Godiva
2. Amazing Grace
3. I Drink Your Milkshake
4. She Paints Houses
5. Immortals
6. The Crueler Kind
7. Deception Of The Crush
8. All In All
9. Black Stang
10. Heart Of Chrome
11. Fairlight