---
---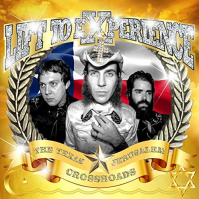 Formats
---

---

STUMM398

Long Player

£20.00

X

Double Vinyl Set with a Download plus a bonus CD of an unreleased Acoustic LTE XFM Radio Session.
Label
---
Texas-Jerusalem Crossroads
---
The much-anticipated definitive release of Lift To Experience's seminal double concept album, The Texas-Jerusalem Crossroads, mixed as God intended. The Texas-Jerusalem Crossroads is a brand new mix of the classic album, overseen by the band and engineer Matt Pence and features rejuvenated album artwork (an homage to the Texas-based graphics design studio Pen and Pixel famed for their 90's Southern gangsta rap album covers).
Tracklist
1Just As Was Told
2Down Came The Angels
3Falling From Cloud 9
4With Crippled Wings
5Waiting To Hit
6The Ground So Soft
7These Are The Days
8When We Shall Touch
9Down With The Prophets
10To Guard And To Guide You
11Into The Storm