---
---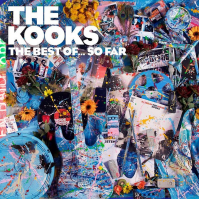 Formats
---

X

Deluxe Double CD Set (Features a second disc with previously unreleased tracks, acoustic and alternative versions).

---

X

18 Track Standard CD.

---

X

16 Track Double Vinyl in Gatefold Sleeve.
Label
---
Best Of...So Far
---
The Best Ofâ## So Far marks the return of British Indie icons The Kooks. Celebrating over 10 years since their 5xPlatinum selling debut album Inside In /Inside Out, this 18 track album features the much loved NaA#ve, She Moves In Her Own Way and Ooh La as well as new singles Be Who You Are and Broken Vow.
Tracklist
1. Naive
2. Always Where I Need To Be
3. Junk Of The Heart (Happy)
4. Bad Habit
5. She Moves In Her Own Way
6. Shine On
7. Seaside
8. Down
9. Sofa Song
10. Is It Me
11. You Don't Love Me
12. Forgive & Forget
13. Ooh La
14. Sway
15. Eddie's Gun
16. Matchbox
17. Be Who You Are - Alternative Intro
18. Broken Vow