---
---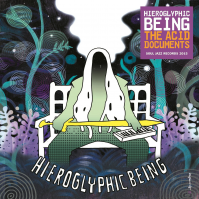 Format
Label
---
The Acid Documents
---
Soul Jazz Records launches its new electronic music imprint Sounds of the Universe division with the first of two new albums by Hieroglyphic Being.
Hieroglyphic Being, aka Jamal Moss is a DJ/composer/sound artist who makes pioneering, experimental, boundary-pushing Afro-futurist electronic music.
Born and based in Chicago, Moss's music embodies two of the cultural foundation blocks of the city's musical lineage: that of Chicago's original Acid House sound (c. 1986), of Frankie Knuckles, Phuture, Marshall Jefferson et al, alongside a rigorous experimental sound searching that taps into the cosmic musical lineage of pioneering artist Sun Ra whose Arkestra landed and was based in the city from 1946-61.
What clearly defines Moss's music is that while sometimes pushing the limits of sound to an ear-splitting dimension of experimentation and DIY-electronics, the music is always clearly a progression of the lineage of black music. In the words of fellow Chicagoans, The Art Ensemble of Chicago, it is simply 'Great Black Music.' And yet in this uniquely defined sound, Moss somehow manages to draw into this world elements of industrial music, German electronic music (Cluster, Harmoniaetc), Detroit's sci-fi techno artists (Atkins, Saunderson, Craig) and more.
Tracklist
1. Culdees
2. Dualism
3. Fabian Society
4. Gematria
5. Jacobites Order
6. Aurum Solis
7. E Clampus Vitus
8. Hollow Earth
9. Illumiates Of Thaneteros
10. Burlesque Degrees