---
---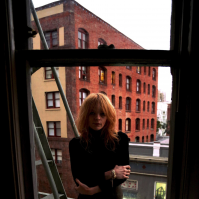 Formats
---

---
Label
---
On Your Own Love Again
---
The beautiful, sparkling and heartfelt new album from the gifted LA songwriter.
We all want the world to be beautiful. We want scribes and songbirds to tell us so - and sometimes they do and then it is. They point their pens and focus their lens where they will and surprise us to our soul. On Your Own Love Again is a record that does it to us, with songs from a spine-thrilling new place and a gifted young singer with her own musical logic.
Jessica Pratt's self-titled 2012 debut has been much-murmured about in the time between yesterday and today. People respond to the austere, pristine clarity of the performances, the gentle strength, marveling at how much comes from so little: just a voice and a guitar or two! They remark on the timeless nature of the songs and the voice, scrupulously informed by the folk-rock of ages past, but sung without bags (none in hand, nor beneath eyes). They speculate on just who is the personality behind this Jessica Pratt? It is hard not to respond to the sound of her music, not to want more right away.
Two years on, and Jessica's very new On Your Own Love Again is here for us, playing her further adventures in different pastures. If they feel removed from the first songs, it may help to know that the recordings of the first album were made some years back with no expectation of making an album. They sat quiet on the shelf for a long time, appearing on the internet eventually. It all seemed harmless, but when Birth Records honcho Tim Presley rolled up in his long white limousine and began to spin tales of folk rock glory, who was she to say no? Sure, Mr. Presley, fence me a record!
The nice part about learning that people dig your sound is that it gives you the chance to think of what else you'd do. After deep consideration, Jessica found new songs within her and an urgency to make another record, marked with a strong sense for rendering it exactly the way she heard it in her head, spending time with her tunes and crafting the smallest details. In this way, she truly was able to inhabit her own skin as a singer of her songs - and make On Your Own Love Again the first Jessica Pratt album constructed to be an album.
What makes On Your Own Love Again new? Everything, and yet everything woven so subtly into the presentation leaves you unaware that you have been modulated upon. The album was recorded entirely by Jessica in the fashion of "Night Faces" and "Dreams," from her first album, and mixed in collaboration with Will Canzoneri. Touched lightly with additional instrumental and vocal parts, the songs ripple beneath the surface with lyrical details that morph almost subliminally from the personal into fantasy. When Jessica's playful nature bubbles up, she sends her voice traveling into strange places to see what it finds there. The music too is deceptively accomplished, providing subtle hallucinatory nuances to the tunes. The orchestral organ stop working in the shadows of "Wrong Hand," the reverberant percussion floating through "Game That I Play," the clavinet panned out on the side in "Moon Dude," Jessica's sudden vocal dip into her lower register on "Greycedes"- all pull at the ears, highlighting her unique pop sensibilities with craft and humor, giving the album's inherent romance a greater heft. Perhaps most significantly, On Your Own Love Again was recorded at home - at places in Los Angeles and San Francisco, over the past two years. This process sands the surface of her more active multi-tracking approach, allowing a sound as delicate and singular as her former recordings. On Your Own Love Again Jessica is fully alive in a space all her own; with isolation in the breeze, the sound resonant in the natural light and a gauze of clouds in the sky, under which she can relax, unwind and let herself be.
That's everything we want from Jessica Pratt - On Your Own Love Again.
Tracklist
1. Wrong Hand
2. Game That I Play
3. Strange Melody
4. Greycedes
5. Moon Dude
6. Jacquelyn in the Background
7. I've Got A Feeling
8. Back, Baby
9. On Your Own Love Again