---
---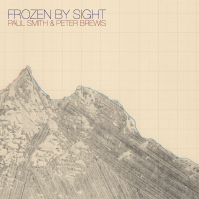 Formats
---

---

MI0337LP

Long Player

£18.00
Label
---
Frozen By Sight
---
Drawing inspiration from disparate musical and poetic sources, two British Mercury Prize nominees have come together in a playful departure from their respective work with Field Music and Maximo Park. Based around text from Paul Smith's travel writing, and Peter Brewis's chamber-band arrangements, the pair have collaborated on a suite of songs, creating a restrained yet richly descriptive sound-world.
The music wraps itself around the words and the places they chronicle. The locations become tangible; from their home towns in north-eastern England to more far-flung destinations. Characters appear, such as the diminutive L.A.
Street Cleaner going about his work in the song of the same title, or the romantic old couple "digging their forefingers in freshly-soaked sand" in 'Santa Monica'. 'Frozen By Sight', then, is a rare piece of music that quietly announces the arrival of a potent new collaboration.
Tracklist
1. Old Odeon
2. Santa Monica
3. Exiting Hyde Park Towers
4. Barcelona (At Eye Level)
5. L.A. Street Cleaner
6. A Town Called Letter
7. Mount Wellington Rises
8. Budapest
9. Perth to Bunbury
10. Philly
11. Trevone
12. St. Peter's