---
---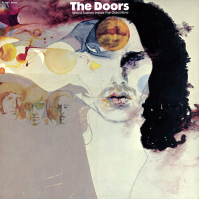 Format
Label
---
Weird Scenes Inside The Gold Mine
---
With an intoxicating, genre-blending sound, provocative and uncompromising songs, and the mesmerizing power of singer Jim Morrison's poetry and presence, The Doors had a transformative impact not only on popular music but on popular culture. In the decades since the Doors' heyday, the foursome has loomed ever larger in the pantheon of rock - and they remain a touchstone of insurrectionary culture for writers, activists, visual artists and other creative communities.
Weird Scenes was originally released in 1972 and is long out-of-print. It was the first compilation to be released after Jim Morrison's death in 1971, and features some of the Doors' best-loved hits alongside two stellar b-sides: "Who Scared You" which appeared in March 1969 as the flipside to "Wishful Sinful," and a cover of Willie Dixon's "(You Need Meat) Don't Go No Further" which was paired with the smash "Love Her Madly" in 1971.
The 22 songs that appear on the collection provide a wide-ranging introduction to the music recorded between 1967 and 1971. The band's longtime engineer Bruce Botnick remastered the music heard on this reissue.
Tracklist
Disc 1:

1. Break on Through
2. Strange Days
3. Shaman's Blues
4. Love Street
5. Peace Frog/Blue Sunday
6. The WASP (Texas Radio and the Big Beat)
7. End of the Night
8. Love Her Madly
9. Spanish Caravan
10. Ship of Fools
11. The Spy
12. The End

Disc 2:

1. Take It as It Comes
2. Running Blue
3. L.A. Woman
4. Five to One
5. Who Scared You
6. (You Need Meat) Don't Go No Further (Willie Dixon)
7. Riders on the Storm