---
---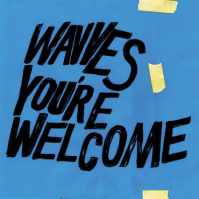 Formats
---

GR032CD

CD

£12.00

Expected 19th May 2017

---

GR032LPC1

Long Player

£20.00

Expected 19th May 2017

X

Limited Coloured Vinyl.
Label
---
Youre Welcome
---
The word 'brat' has followed Nathan Williams around for almost a decade, but at the age of 30, with a fully-fledged business to his name, as well as the ongoing success of band Wavves, his rebellious streak has proven not just purposeful but pretty damn inspiring. The San Diego native knows how to play the system, so when the major labels came knocking a few years ago looking to turn Wavves into the next so-called saviours of radio rock'n'roll, Williams and bassist Stephen Pope made sure they used it to their advantage. When Warners came along and offered them a cash advance too good to refuse to release 2015's fifth album V, they accepted while being shrewdly aware of what they were getting themselves into. Williams released single Way Too Much on Soundcloud before the label had approved it, the label forgot to sign off on the artwork and, in the end, Wavves felt swept under the rug. Ultimately it felt like a career step backwards. With a fighting spirit, Williams took back control and realized his own teenage dreams. In February 2016, months before Ghostramp opened, Williams took himself into producer Dennis Herring's (King Of The Beach) studio in Downtown LA, and for the first time since the early records worked regular office hours and almost entirely alone. It was the polar opposite experience to making 2013's Afraid Of Heights record, which took Wavves over a year and was "out of control". The album was put together wholly differently from V, too, which was recorded live as a band album together with guitarist Alex Gates, drummer Brian Hill and Stephen in the studio. You're Welcome is mostly comprised of Williams' oddball, sample-led brainstorms. He came up with 40 tracks, now whittled down to twelve, fat-free punk zingers. A sample nerd, Williams delved into his obsession with 1950s doo-wop and – surprisingly – international folk, including Cambodian pop and '70's psychedelia from South America. The results make for one of the most diverse and intricate Wavves records yet. Come To The Valley contains a Phil Spector meets Beach Boys '60s High School dance vibe, whereas title track You're Welcome riffs on sound effects that could almost originate from Bizarro World, never mind Cambodia. The biggest shift of all, and the ultimate laying down of the gauntlet to Williams' doubters, is the subject matter. Where V was a "buzzkill" record, all hangovers, lovers' tiffs and depression, You're Welcome is less navel-gazing. It's dealing with matters outside of Williams' own headspace. Nathan Williams never went away, but now he's made sure he's here to stay far longer. And for that, girls and boys, you're welcome.
Tracklist
1. Daisy
2. You're Welcome
3. No Shade
4. Million Enemies
5. Hollowed Out
6. Come to the Valley
7. Animal
8. Stupid in Love
9. Exercise
10. Under
11. Dreams of Grandeur
12. I Love You