---
---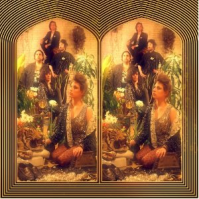 Formats
---

---
Label
---
Manifest!
---
After blazing out of Bushwick in 2011 with the two buzz-worthy singles, "I'm His Girl" and "Friend Crush", a reputation for turning live gigs into spontaneous DIY parties (and vice versa), and a bio built to withstand the most cynical indie-blog cred-vetting – Brooklyn's Friends will release their debut album Manifest!, June 4th on Lucky Number.
Produced by the band, its twelve tracks were recorded between last summer and this spring with engineer Daniel Schlett at Strange Weather studios in Brooklyn.
Forthcoming single, and the album's climax, "Mind Control", has been mixed by Paul Epworth, and it sums up the seditious streak of Manifest! The musical choices are brazen even by Friends' standards: superfly bass, slinky synth, crybaby wah, bongo solo, group chants.
Tracklist
1. Friend Crush
2. Sorry
3. Home
4. A Thing Like This
5. A Light
6. Ideas on Ghosts
7. Ruins
8. I'm His Girl
9. Proud/Ashamed
10. Stay Dreaming
11. Van Fan Gor Du
12. Mind Control