---
---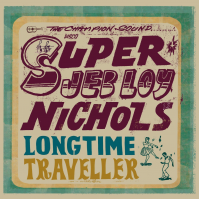 Formats
---

X

Double CD

---

ONULP130

Long Player

£18.00

X

Includes a download card for full contents plus 11 bonus tracks (same content as Disc 2 of the CD edition).
Label
---
Long Time Traveller
---
Jeb Loy Nichols finally comes home to On-U Sound,the label he first
befriended in 1981. A country/dub crossover record, backed by members of Dub Syndicate and the Roots Radics, and with Adrian Sherwood at the controls. The subtle dub production gives Jeb's careworn songs of love and loss a unique sound – this is Nashville-by-way-of-Kingston, Lee Hazlewood if he'd made an album with the Wailers, equal parts Johnny Cash and Horace Andy…
Following a limited Japanese release in 2010, the album has been
remixed, resequenced and redesigned to present the definitive edition of this sublime set of songs. A cult figure for fans of Americana, Jeb was born in the Midwest of the United States. His career has encompassed leading The Fellow
Travellers (one of the first bands to be described as 'alt country'), sleeve design for the Pressure Sounds reggae reissue label, compiling the acclaimed Country Got Soul series, writing a regular column for the
Heavenly-affiliated Caught By The River periodical, and solo albums for Capitol, Decca, Rykodisc and Rough Trade. His song "As The Rain" was used in the film Good Will Hunting and included on the subsequent soundtrack album.
Tracklist
1. To Be Rich (Should Be A Crime)
2. The Day You Came Over The Hill
3. Mother Your Son
4. I'm In Need Now
5. Lonely King Of The Country
6. Poor Man's Prayer
7. Mr. Nobody
8. 97 Miles
9. Moving Time
10. Everything Is Different

CD2 – Bonus Tracks & Alternate Versions
1. Salt Of A Fallen Tear
2. Miss Moon
3. Sweet Tough And Terrible
4. This Dark Road
5. 97 Miles (alternate mix)
6. The Day You Came Over The Hill (alternate mix)
7. Lonely King Of The Country (alternate mix)
8. I'm In Need Now (alternate mix)
9. Everything Is Different (alternate mix)
10. Mother Your Son (alternate mix)
11. Poor Man's Prayer (alternate mix)