---
---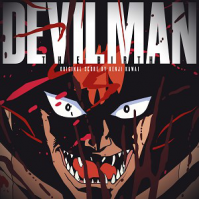 Format
Label
---
Devilman OST
---
"Devilman, created by Go Nagai is one of every anime fan's favourite anti-hero superstars," says Jon Dobyns, co-founder of Tiger Lab Vinyl. The score, composed by Kenji Kawai (Ghost In The Shell, Ringu)
The Tiger Lab release is the original 1987 video animation soundtrack, remastered for vinyl by Heba Kadry at Timeless Mastering. It will be available on 180 gram Akira and Amon swirl or 180 gram black vinyl with gatefold packaging and artwork created by Sam Pfannkuche. This will be the first ever official wide release of the soundtrack.
"We couldn't be happier to include this Kenji Kawai score to the Tiger Lab discography," says Dobyns. TLV worked closely with Kawai, his team, and King Records to present the finest edition of the score on vinyl.
The electronic and orchestral score includes two bonus tracks from the band Anthem, which play during the seance and transformation scenes from the movie.
"The beginning theme is one of Kawai's most beautifully written pieces," says Dobyns, "His ethereal and brilliant melodies sit eerily behind the prehistoric pandemonium of the opening scene." An example of Kawai's earlier work, the score to DEVILMAN: The Birth demonstrates his strength as a composer. The iconic Devilman theme helped catapult the character into rockstar status
Tracklist
1. Introduction - Last War
2. Dislocation
3. Demon Clan
4. Akira & Ryo Side
5. Roar
6. Ending Theme
7. Light It Up
8. Show Must Go On!