---
---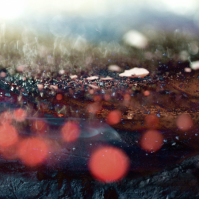 Format
---

PATHWAY009

Long Player

£20.00
Label
---
Ressurection
---
A panorama of vocals drifting over a densely processed terrain of mud-caked percussion and guitar, Leafcutter John's new solo album, Resurrection, is a characteristically unique blend of the electronic and the acoustic, the hitech, the human and the homemade. Resurrection is the sixth Leafcutter John album and his first solo release since 2006's The Forest and The Sea CD / LP (Staubgold). In the intervening nine years, John has toured from Vietnam to Venice, appeared live with Beck Hansen and Imogen Heap, and provided the score for Crow, a major theater project by Handspring (creators of War Horse). During this time, John has also maintained his permanent role as the unpredictable, electronic antagonist in Polar Bear, the twice-Mercury-Music-Prize-nominated, genre-defying jazz band.
Resurrection begins with the sound of a single bell, in homage to one of
John's major influences, Bernard Parmigiani's De Natura Sonorum (1976). From there, the album unfolds over five cinematically varied tracks, "like floating above a world in constant flux." Not content with the usual tools available to the electronic musician, John has created innovative new systems and techniques for both live performance and production. This includes a light-controlled instrument that allows him to manipulate his live sound through gesture, flickering candles, flashing torches and pyrotechnics. For the track "Gulps," John coded special software to layer huge swathes of sound. Using a recursive system, he created 7.1 billion layers of a recording of the North Sea, one for each human alive on the planet at the time of writing. Featuring a guest appearance by Shabaka Hutchings (Sons of Kemet), "Gulps" is a neat demonstration of John's approach: Hutchings' intimate clarinet
is gradually engulfed by a (literal) ocean of sound. This is music where
technological innovation is always at the service of the emotional impact: both human-scale and mind-expanding in its ambition.
Tracklist
1. Resurrection
2. I Know You Can
3. Music Under the Water
4. Endless Wave
5. Gulps