---
---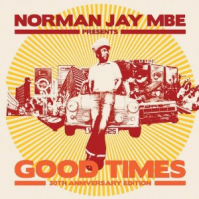 Format
Label
---
Norman Jay Presents: Good Times
---
This Summer, Strut teams up with one of the most revered of all DJs, Norman Jay MBE, to celebrate 30 years of Good Times, the party that changed the face of the Notting Hill Carnival and which has become a Summertime fixture at festivals worldwide.
Jay set up his first sound system, Great Tribulation, in 1979 with his brother Joey which became Good Times Sound System in 1981, the start of a 30-year residency at Notting Hill Carnival. Norman changed the face of the music played there, introducing a range of gritty, soulful styles to complement the predominantly reggae-based sound systems. The move paved the way for the open-minded Carnival we know today, with Good Times still at its core.
From Good Times, Jay's career burgeoned. He became a key DJ during the '80s London rare groove scene, hosting a series of legendary clubs – Shake 'N' Fingerpop, High On Hope (inspired by New York's Paradise Garage) and famed sessions at London's Bass Clef (later the Blue Note), all of which built his reputation for open-minded soulful selections spanning soul, funk, disco, early house, reggae and hip hop. Through his club nights, he was one of the first to introduce legendary US DJs like Tony Humphries, Louie Vega and Blaze to the UK. Further success followed - he was one of the founders of London station Kiss FM and ran the seminal Talkin' Loud label alongside Gilles Peterson at Phonogram.
Jay's tireless work as a DJ has earned him many accolades – he has appeared on the BBC's Question Time, and received an MBE for his work in 2002, the first time any DJ had received such an accolade.
In the wake of his many achievements and the ongoing success of Good Times, Jay has enjoyed a series of essential compilation albums on React, Resist, Nuphonic and Azuli stretching back to 2000, as well as a recent spin-off album, Good Times Australia. Now, the maestro returns with a special 30th Anniversary collection for Strut, another bumper set of genre-hopping classic and rare Good Times favourites. Tracks include boogie rarity "Dreamin" by short-lived band Zalmac and Fries & Bridges' "Forever This," a 4x4 belter featuring an early vocal by chart superstar Cee-Lo Green. Jay touches on independent hip hop with Basement Chemist, jazz grooves courtesy of Kira Neris and Attic Tree, skanking reggae from Jacob Miller and doo-wop soul courtesy of Little Anthony & The Imperials.
Norman Jay presents Good Times 30 is released on CD, LP and download. For the CD and LP formats, leading journalist and author Lloyd Bradley interviews Norman Jay for an extensive career-spanning sleeve note. The package also features rare and unseen photos from across Norman Jay's career as a DJ.
Tracklist
1 — I Believe in Miracles — Mark Capanni
2 — I Got Sunshine — Avery Sunshine
3 — Ghetto Disco [Edit] — Ted Taylor
4 — Dreamin' — Zalmac
5 — Who's That Stranger — Terri Wells
6 — I Don't Have Time To Worry — Little Anthony & the Imperials
7 — My Girl — Mario Biondi
8 — Tired Fe Lick Weed in a Bush — Inner Circle / Jacob Miller
9 — Everybody (L I F E) — The Basement Khemist
10 — Try Me [People Under the Stairs Remix] — J Boogie's Dubtronic Science
11 — Voar — Attic Tree
12 — Victory — Curtis Mayfield
13 — Freak in Me — Dante
14 — Forever This — Fries & Bridges
15 — Think Twice [Henrik Schwarz Remix] — The Detroit Experiment
16 — Private Sunshine — Ashley Slater