---
---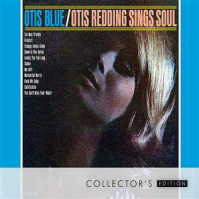 Format
---

8122797160

Long Player

£15.00
Label
---
Otis Blue: Otis Redding Sings Soul
---
Otis Redding was a singer of such commanding stature that to this day he embodies the essence of soul music in its purist form," notes the Rock and Roll Hall of Fame on their web page about the legendary artist's 1989 induction, where they also call OTIS BLUE/OTIS REDDING SINGS SOUL "a virtual soul-music primer." Recorded in 1965 and released in 1966, it was Redding's third LP, and hit #1 on Billboard's Black albums chart. Rhino's deluxe 2-CD COLLECTOR'S EDITION of this masterpiece from the golden era of soul features both mono and stereo mixes of the original album plus previously unreleased bonus tracks and new liner notes.
Intense, raw and emotional, OTIS BLUE/OTIS REDDING SINGS SOUL features a trio of songs-"Shake," "A Change Is Gonna Come" and "Wonderful World"-written by Sam Cooke, Redding's idol, who passed away shortly before the album was made. Other unforgettable covers include Otis' hit rendition of the Stones' "(I Can't Get No) Satisfaction" and his sublime take on the Smokey Robinson classic "My Girl." Tracks penned by Redding include his own stirring version of "Respect," a song that became Aretha's signature, and the phenomenal "I've Been Loving You Too Long (To Stop Now)," a cut he co-wrote with Jerry Butler that was a #2 Black single and a #21 pop chart hit.
Bonus material on Disc 1, which features the original mono album, includes six rare alternate and single versions, three of them previously unreleased. It also presents another half dozen songs recorded live at the Whisky A Go Go in Los Angeles in 1966, including smokin' send-ups of "Satisfaction" and "Respect." In addition to the original stereo album, Disc 2 contains bonus material including an alternate version of "Respect" and five songs recorded live in Europe in March 1967 (Redding died in December of that year).
Rolling Stone Magazine ranked OTIS BLUE: OTIS REDDING SINGS SOUL #74 on its list of the "500 Greatest Albums Of All Time." Time.com honored it in its survey of the "All-Time 100 Albums," noting, "OTIS BLUE is the Big O's one album that most plays like an album. The songs are strong throughout...The Stax house band-Booker T and the MGs, augmented by Isaac Hayes and the Mar-Key horns-crackles, and Redding's voice was never better. Which is truly saying something."
Tracklist
Disc 1

1. Ole Man Trouble
2. Respect
3. Change Gonna Come
4. Down in the Valley
5. I've Been Loving You Too Long
6. Shake
7. My Girl
8. Wonderful World
9. Rock Me Baby
10. Satisfaction
11. You Don't Miss Your Water
12. I've Been Loving You Too Long
13. I'm Depending on You
14. Respect
15. Ole Man Trouble
16. Any Ole Way
17. Shake
18. Ole Man Trouble
19. Respect
20. I've Been Loving You Too Long
21. Satisfaction
22. I'm Depending on You
23. Any Ole Way

Disc 2

1. Ole Man Trouble
2. Respect
3. Change Gonna Come
4. Down in the Valley
5. I've Been Loving You Too Long
6. Shake
7. My Girl
8. Wonderful World
9. Rock Me Baby
10. Satisfaction
11. You Don't Miss Your Water
12. Respect (1967 Version)
13. I've Been Loving You Too Long (Live in Europe)
14. My Girl (Live in Europe)
15. Shake (Live in Europe)
16. Satisfaction (Live in Europe)
17. Respect (Live in Europe)