---
---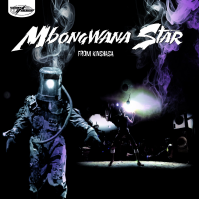 Format
Label
---
From Kinshasa
---
Mbongwana Star is a newly formed band from Kinshasa, the capital of the Democratic Republic of Congo. Made up of a sprawling network of shanty-towns and night shelters, day-to-day life in the city is far from easy, but the band don't want sympathy. Tired of pre-conceptions around African music, Mbongwana Star ('Mbongwana' means 'change') are creating their own identity, fusing traditional Congolese rhythms with post punk and electronics inspired by life in the townships around them, "making magic out garbage" says producer and band member Doctor L (who produced Tony Allen's 'Black Voices' album). The result is revolutionary machine. This isn't an African band per se. It's a trans-global barrier-busting sound. Mbongwana comprises members of the hugely popular Staff Benda Bilili. Vinyl version contains a download code.
Tracklist
1. From Kinshasa to the Moon
2. Shégué
3. Nganshé
4. Masobélé
5. Coco Blues
6. Malukayi (Feat. Konono No. 1)
7. Suzanna
8. Kimpala
9. Kala
10. 1 Million C'est Quoi?