---
---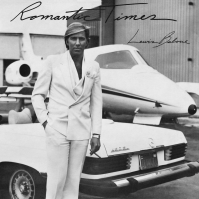 Formats
---

---

LITA123LP

Long Player

£18.00

X

w/ download
Label
---
Romantic Times
---
Earlier this year, the mysterious, bewitching L'Amour, a 1983 private press record, was released thought to be the only release by one of music's true lost talents: Lewis.
So lost, in fact, was Lewis, he eluded every effort to track him down. Scant details were known: just a series of possibly apocryphal stories about a sports car-driving Canadian with a model on his arm and a habit of skipping town when there were bills to be paid.
Deciding that Lewis' spider web-delicate songs demanded to be heard, we put the album out anyway, offering to present the due royalties to anyone who could prove they were Lewis.
One sure thing was this: Lewis was a man of many names: Randall A. Wulff among them. Now we have either found another alias – or perhaps even his real name – on the sleeve of a completely unknown album.
THE PRESS LOVED IT....
MOJO FULL PAGE REVIEW: "A STRANGELY BEAUTIFUL ALBUM, AN ETHEREAL BLEND OF ARTHUR RUSSELL COUNTRY-FOLK, 'NEW MORNING' ERA BOB DYLAN AND DENNIS WILSON'S 'PACIFIC OCEAN BLUE"
LEAD 5/5 REVIEW IN THE TIMES: "IT'S A RESTRAINED , MELANCHOLIC MASTERPIECE, AVANT-GARDE IN IT'S PAPERY DELICACY, AND IT CAPTURES SOMETHING OF THE SADNESS OF LOS ANGELES AS A PLACE WHERE PEOPLE GO TO CHASE DREAMS THAT WILL NEVER COME TRUE. WULFF'S ALBUM WAS HIS DREAM TURNED INTO MUSIC, WHICH IS EXACTLY WHAT IT SOUNDS LIKE."
4/5 REVIEW IN THE GUARDIAN: "WHAT A STRANGE AND SINGULAR ALBUM THIS IS. THERE ARE HINTS OF BOB DYLAN IN HIS CHEWIER MUMBLES, AND OF KAREN DALTON IN HIS ELUSIVE SOFTNESS"
PITCHFORK 8.6/10 REVIEW: "IT CAN BE WEIRDLY ADDICTIVE, WITH EACH SUBSEQUENT LISTEN PROMISING TO REVEAL SOME ESSENTIAL SECRET OR SHED LIGHT ON THE MAN ON THE ALBUM COVER"
UNCUT PLAYLIST: "AN ENTIRELY MYSTERIOUS CANADIAN ALBUM FROM 1983, REDOLENT OF ARTHUR RUSSELL AT HIS MOST ETHEREAL"
Sourced soon after the re-release of L'Amour, Romantic Times is the 1985 follow-up to L'Amour – and it's released as Lewis Baloue. The name may be slightly different, but this is absolutely our man: a familiar blond posing on the sleeve, a familiar, tortured voice pouring his heart out over languid synths and synthetic waltz beats.
Remastered from a sealed, vinyl copy of the ultra-rare album, the album was discovered in the vaults of DJ and collector Kevin "Sipreano" Howes in Vancouver, BC. It's so rare that what is, at present, the only other known copy – found in the same Calgary store where Aaron Levin discovered a batch of sealed copies of L'Amour – is presently soaring into quadruple digits on eBay.
Even engineer Dan Lowe, credited for working on the album at Calgary's Thunder Road Studios, remembered little about the session other than that Lewis seemed to be "under the influence". Yet the music is utterly captivating.
The album further fleshes out the Lewis myth – we see him pictured in that white suit with his famous white Mercedes and a private jet too; we hear him focussing more intently on matters of the heart, and appearing to unravel in the process. "I felt like I was witnessing a full-blown exorcism of a phantom clad in the finest linen," writes filmmaker and historian Jack D. Fleischer in his brand new liner notes. "This record went further [than L'Amour ]. It was a personal plea, of sorts. Something had gone wrong. Nerves were clearly exposed."
It paints Lewis, then, as being more like a David Lynch character than even his debut did, exposing the darkness beneath the sheen. The album is presently being readied for release to the throng of new fans Lewis has found, willingly or not. The man himself remains a total enigma.
Tracklist
1. We Danced All Night
2. Bon Voyage
3. Don't Stop It Now
4. It's A New Day
5. So Be In Love With Me
6. Bringing You A Rose
7. Where Did My Love Go Away
8. As The Boats Go By