---
---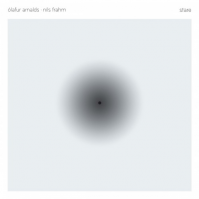 Format
Label
---
Stare
---
Originally released as a strictly limited 10-inch vinyl record exclusive on Record Store Day 2012, this long sold-out must-have for fans of these two artists will finally be re-issued – this time in 12-inch format!
Erased Tapes label mates Ólafur Arnalds and Nils Frahm recorded and mixed their first collaborative record between Reyjkjavík and Berlin as a surprise release for label founder Robert Raths.
The ambient/electronic work 'Stare' is a true family effort with long-time collaborator Anne Müller joining in on cello and all graphics created by close label-friend and designer Torsten Posselt of FELD Studios.
Words by Nils Frahm:
"I heard 'Eulogy For Evolution' for the first time six years ago and I was totally captivated. Impossible to know back then that I was supposed to meet Ólafur many years later as my label mate. Later when he took me along a tour of his we also noted that we kind of like hanging out together, doing important things like cover versions of long forgotten songs or eating veggie pizza. Also he would join my live set for a jam and I would return the favour by playing along with his set.
All in all, I fell for Óli and after one memorable jam session we had in Berlin at Roter Salon in 2011, he finally proposed the idea to visit me in my studio in Berlin to work on 'some music'. I was happy and delighted about that idea, so we got together in April 2011 and after having a big pizza, I plugged in some old analogue synths and we played for four days until late in the night. Also queen Anne Müller stopped by after a show with Agnes Obel to record some cello at 5 am in the morning for 'b1'. Making music together with people is lovely!
The time I spent with Óli in Berlin made me very happy and the music wasn't like anything I have heard before. It was all very reduced and minimal and I felt like I couldn't have done this alone. So we decided to do another 4-day jam at Óli´s E7 studio in Reykjavik. So I flew there in the end of October 2011 to repeat the trick and record some out of this world ambient music. It didn't take us too long to write 'a1' and 'a2'. I can't wait for the follow up!"