---
---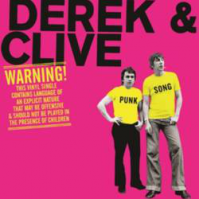 Format
Label
---
Punk Song
---
Record Store Day 2016 Product.
Remaining stock available online from Friday 22nd April at Midnight.
As we celebrate British Punk's 40th anniversary we can think of no more fitting memento than this grubby little 7" from a pair of true anarchists! Derek & Clive, the tirelessly taboo-breaking, hilariously filthy characters sprang from the comedic genius of Dudley Moore (Derek) and Peter Cook (Clive) and the run of spoken word albums they released in the late 1970s still have the power to shock at ten paces - how did they get away with it? Unreleased officially until it made its debut on 2010's odds and sods collection 'Rude & Rare', 'The Punk Song' remains, fittingly, both very rare and very rude indeed.