---
---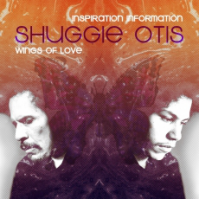 Format
---

X

Double CD
Label
---
INSPIRATION INFORMATION / WING
---
All of 'wings of love' has a slightly woozy, trippy feel, something characteristic of its one-man-band origin, where keyboards & compressed microphones create a hazy tapestry, & part of the appeal of this music is how it feels like the late '70s & early '80s without belonging to its time; it certainly doesn't feel modern, but it can't be pinned to any specific year, which is appropriate as Otis essentially dropped out of sight & made this music in a vacuum. It's the sound an eccentric who was able to run wild for years on end, never caring about whether his music would be heard. The psych-soul masterpiece 'inspiration information' comes expanded with 4 previously unreleased bonus tracks.
Tracklist
Disc: 1
1. Inspiration Information
2. Island Letter
3. Sparkle City
4. Aht Uh Mi Hed
5. Happy House
6. Rainy Day
7. XL-30
8. Pling!
9. Not Available
10. Miss Pretty
11. Magic
12. Things We Like To Do
13. Castle Top Jam
Disc: 2
1. Intro
2. Special
3. Give Me Something Good
4. Tryin' To Get Close To You
5. Walkin' Down The Country
6. Doin' What's Right
7. Wings Of Love
8. Give Me A Chance
9. Don't You Run Away
10. Fireball of Love
11. Fawn
12. If You'd Be Mine
13. Black Belt Sheriff
14. Destination You!