---
---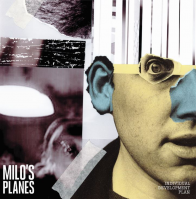 Format
---

GT009LP

Long Player

£20.00

Expected 5th May 2017
Label
---
Individual Development Plan
---
Punk over the years has evolved into one of the toughest proving grounds for a young band the latest flash in the pan rising up and then falling from grace just as quickly, with each failure another chink in the armour of Punk#s original legacy. So, up step Milo#s Planes to break the trend.
Their new album Individual Development Plan avoids stagnation and nudges Punk back in the right direction. Paying homage but never ripping off the classics, the band have have created a body of work which neatly nods to the the tentpoles of the Post-Hardcore movement like WIRE, Mission of Burma & Fugazi, but maintains the contemporary pop relevance of today#s charted noisemakers like The Wytches, Pulled Apart by Horses and Tall Ships.
Individual Development Plan is 12 tracks of frenetic Post-Hardcore combining hooky guitars with a committed and driving rhythm section. From the eighty-one second salvo of #Fidget in Paralysis# to the acrobatic guitar play on #Stifled Ambition#, Milo#s Planes have captured the frustration of finding your place in the modern world as a young person in these current tense political and socio-economical times.
Cleverly this young Bristolian four-piece have in the same breath produced a record which sounds refreshing and hopeful, showing maturity and songwriting nuance which pushes them above and beyond their contemporaries. Astonishingly this is the band#s third album but it looks like this time the plan has really come together.
Tracklist
1.Nomads I
2.Nomads II
3.Fidget in Paralysis
4.Looped Horizons
5.Oliver
6.Inertia
7.Beach Bodies
8.Catalyst
9.Splinters
10.Stifled Ambition
11.Elastic Phrasing
12.Kings