---
---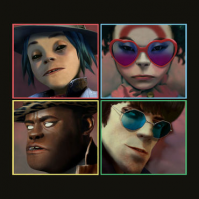 Formats
---

X

Standard CD - 20 Tracks.

---

190295851194

Long Player

£22.00

X

Standard Double Vinyl - 20 Tracks.
Label
---
Humanz
---
Gorillaz return with a new album. Humanz features contributions from Grace Jones, Mavis Staples, Danny Brown, Jehnny Beth of Savages, De La Soul, Pusha T, Kali Uchis, Kelela, and many more. The album was recorded in London, Paris, New York, Chicago, and Jamaica and produced by Gorillaz, Pusha T/John Legend collaborator the Twilite Tone of D /\ P, and Remi Kabaka.
Tracklist
1. Intro: I Switched My Robot Off
2. Ascension (feat. Vince Staples)
3. Strobelite (feat. Peven Everett)
4. Saturnz Barz (feat. Popcaan)
5. Momentz (feat. De La Soul)
6. Interlude: The Non-conformist Oath
7. Submission (feat. Danny Brown & Kelela)
8. Charger (feat. Grace Jones)
9. Interlude: Elevator Going Up
10. Andromeda (feat. D.R.A.M.)
11. Busted and Blue
12. Interlude: Talk Radio
13. Carnival (feat. Anthony Hamilton)
14. Let Me Out (feat. Mavis Staples & Pusha T)
15. Interlude: Penthouse
16. Sex Murder Party (feat. Jamie Principle & Zebra Katz)
17. She's My Collar (feat. Kali Uchis)
18. Interlude: The Elephant
19. Halleujah Money (feat. Benjamin Clementine)
20. We Got The Power (feat. Jehnny Beth)