---
---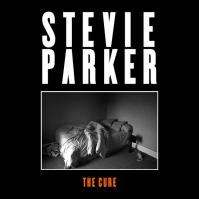 Formats
---

X

Jewel case, 12 page colour booklet.

---

X

Text embossing on standard sleeve with 3mm spine, printed insert, white disco bag, black heavyweight vinyl.
The Cure
---
'The Cure' is the first official release from Bristol based artist Stevie Parker. Who is Stevie Parker? She's the girl on the edge of the room, quiet but magnetic, pale eyes, dark clothes, with a voice to stop time. In that voice are echoes of Channy Leaneagh and the XX, in its soul are artists she grew up with, like Stevie Nicks and Nerina Pallot, in its attitude the strength of Patti Smith, PJ Harvey and Tegan and Sara. Her music is atmospheric pop that is stark and direct, jolting you with its tenderness, digging into your bones. 'The Cure' begins with a girl waiting for a flame to return, and then it builds, and it builds, electronics swelling and cresting, Stevie Parker's voice reaching for the heavens. We\'re shown the intensity of that feeling of new love, hauntingly, unforgettably. BBC R1 Maida Vale session. NME - Best New Track. Q Magazine Track Of The Day.