---
---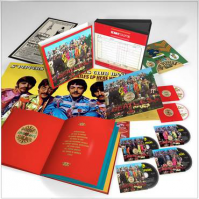 Formats
---

X

Expanded 2CD (Digipack with 50 page booklet) set features the new stereo album mix on the first CD and adds a second CD of 18 tracks, including previously unreleased complete takes of the album's 13 songs, newly mixed in stereo and sequenced in the same order as the album. The second CD also includes a new stereo mix and a previously unreleased instrumental take of Penny Lane and the 2015 stereo mix and two previously unreleased complete takes of Strawberry Fields Forever.

---

X

New Stereo Mix.
Sgt. Peppers Lonely Hearts Club
---
It was 50 years ago this June 1st when The Beatles' John Lennon, Paul McCartney, George Harrison, and Ringo Starr astonished and delighted the world, ushering in the Summer of Love with Sgt. Pepper's Lonely Hearts Club Band, a groundbreaking masterwork that became popular music's most universally acclaimed album. To salute the occasion, The Beatles release a suite of lavishly presented Sgt. Pepper Anniversary Edition packages. The album is newly mixed by Giles Martin and Sam Okell in stereo and 5.1 surround audio and expanded with early takes from the studio sessions, including no fewer than 34 previously unreleased recordings.
Tracklist
1. Sgt Pepper's Lonely Hearts Club Band
2. With A Little Help From My Friends
3. Lucy In The Sky With Diamonds
4. Getting Better
5. Fixing A Hole
6. She's Leaving Home
7. Being For The Benefit Of Mr Kite!
8. Within You Without You
9. When I'm Sixty Four
10. Lovely Rita
11. Good Morning Good Morning
12. Sgt Pepper's Lonely Hearts Club Band (Reprise)
13. A Day In The Life