---
---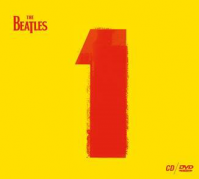 Format
---

4756790

2 x Long Player

£35.00

X

Double Vinyl
1
---
In their short eight year recording career (1962-70), The Beatles changed music, and the music business, forever.

As well as writing and recording some of the most iconic hits in the history of music, The Beatles pioneered the use of short promotional video films for many of their singles, allowing the band to appear on TV screens around the world without having to be there in person.

In the year 2000, 30 years after The Beatles disbanded, EMI released a new hits compilation simply entitled "1", collecting together 27 singles that achieved #1 in the US or UK singles charts. "1" went on to achieve over 32,000,000 copies sold around the world, making it one of the biggest selling albums of the 00's.

Now, 15 years after the initial release, the videos for all 27 songs that make up "1" have been collected together on home video formats for the first time ever. They are joined by a further 23 videos (comprising additional tracks, or rare or alternate versions of the original 27) on the Deluxe "1+" formats.

All 50 videos have undergone a meticulous restoration process and will be presented in 2K or 4K resolution. Meanwhile, Giles Martin and his team at Abbey Road Studios have remixed the audio for all 50 tracks from the analogue masters, and now all the "1" home video formats will boast new 5.1 surround sound for the very first time, as well as a brand new 2.0 stereo mix. This new stereo mix will also be released on CD and digital download formats.

For several videos, Paul McCartney and Ringo Starr have provided exclusive audio commentary and filmed introductions, respectively. And with new bespoke liner notes written by UK magazine editor, broadcaster and writer Mark Ellen, and detailed track-by-track notes by music author Richard Havers, the new "1" packages will represent the best means to date for fans to enjoy these classic singles.
Tracklist
1. Love Me Do
2. From Me To You
3. She Loves You
4. I Want To Hold Your Hand
5. Can't Buy Me Love
6. A Hard Day's Night
7. I Feel Fine
8. Eight Days a Week
9. Ticket To Ride
10. Help!
11. Yesterday
12. Day Tripper
13. We Can Work It Out
14. Paperback Writer
15. Yellow Submarine
16. Eleanor Rigby
17. Penny Lane
18. All You Need Is Love
19. Hello, Goodbye
20. Lady Madonna
21. Hey Jude
22. Get Back
23. The Ballad of John and Yoko
24. Something
25. Come Together
26. Let It Be
27. The Long and Winding Road

CD & Bluray:
1. Love Me Do
2. From Me To You
3. She Loves You
4. I Want To Hold Your Hand
5. Can't Buy Me Love
6. A Hard Day's Night
7. I Feel Fine
8. Eight Days a Week
9. Ticket To Ride
10. Help!
11. Yesterday
12. Day Tripper
13. We Can Work It Out
14. Paperback Writer
15. Yellow Submarine
16. Eleanor Rigby
17. Penny Lane
18. All You Need Is Love
19. Hello, Goodbye
20. Lady Madonna
21. Hey Jude
22. Get Back
23. The Ballad of John and Yoko
24. Something
25. Come Together
26. Let It Be
27. The Long and Winding Road